» Statistics
Members: 3,431
Threads: 9,907
Posts: 129,928
Top Poster: G. S. Carnivals (26,616)

Welcome to our newest member, Experkee2
"She tries to look away, her eyes being the only things she can move. Now, for the first time, she notices that all around the room - in the shadowed places - are people dressed as dolls. Their forms are collapsed, their mouths opened wide. They do not look as if they are still alive. Some of them have actually become dolls, their flesh no longer supple and their eyes having lost the appearance of teary moistness. Others are at various intermediate stages between humanness and dollhood. With horror, the dreamer now becomes aware that her own mouth is opened wide and will not close."
Thomas Ligotti - "Dream of a Mannikin"
Member Conduct Reminder
Jun 03, 2017 - 8:25 AM - by Dr. Bantham
REMINDER TO ALL TLO MEMBERS
TLO - Terms of Service and Legal Notices
TLO - Forum Rules and Etiquette
While I do not expect TLO to exist as a shining beacon of civility, recent conduct has proven to be reprehensible and will not be tolerated. If you should find a post to be an egregious abuse of TLO terms and rules of conduct, you are encouraged to privately notify the moderators by clicking on the
icon underneath the offending members username and avatar. Utilizing this mechanism without due cause can be considered an offense in itself, as it is not intended as a means of spiteful retribution.
43 Replies | 3,066 Views
Ligotti Panel at StokerCon
Apr 22, 2017 - 2:30 PM - by Nicole Cushing
A week from today (Saturday, April 29) at 2:00 p.m., there will be a panel at StokerCon titled "Thomas Ligotti and the Nightmare of Living".

S.T. Joshi, Ted Grau, and I will be discussing Tom's work aboard the Queen Mary. (A former luxury liner permanently docked in Long Beach, CA.) The panel will be in the Regent Room. Would love to see some TLO folks there.
11 Replies | 1,801 Views
Cadabra Records Announcement
Apr 13, 2017 - 1:17 PM - by Dr. Locrian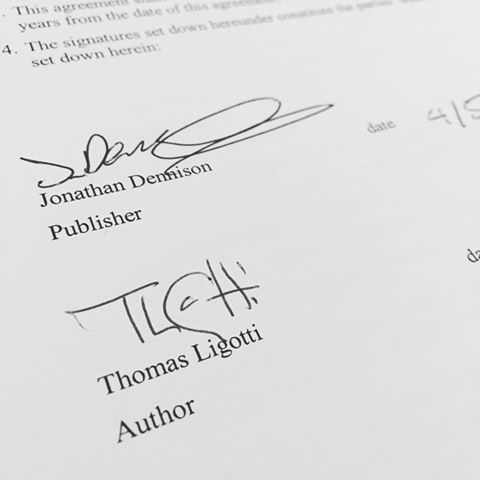 Get ready.

#ThomasLigotti #nowspinning #vinyl #vinylcollector #coloredvinyl #horror #horrorfiction #vinyljunky #spokenarts #spokenword #CadabraRecords #NightmaresOnVinyl

I'll be narrating.

More details forthcoming.
4 Replies | 1,600 Views
» Recent Threads

Rating

Title, Username, & Date
Last Post
Replies
Views
Forum
Happy Birthday miguel1984 ( 1 2)

18 Minutes Ago

10:00 AM

by

James

11

167

Happy Birthday
Trump ( 1 2 3 4 5... Last Page)

28 Minutes Ago

09:50 AM

by

Dr. Locrian

1,314

78,538

Rants & Ravings
Idpol ( 1 2 3 4 5... Last Page)

9 Hours Ago

12:31 AM

by

Mr. Veech

87

4,201

Rants & Ravings
Bob Dylan ( 1 2 3 4 5)

12 Hours Ago

09:28 PM

by

gveranon

44

4,270

Off Topic
Original Quotes ( 1 2 3 4 5... Last Page)

12 Hours Ago

09:26 PM

by

Druidic

87

15,619

Themed Quotations
Twin Peaks - Series 3 ( 1 2 3 4 5... Last Page)

16 Hours Ago

05:33 PM

by

James

58

2,367

Television
A few reviews ( 1 2 3 4 5... Last Page)

18 Hours Ago

04:12 PM

by

Zaharoff

142

3,189

Film
In search of Stefan Grabinski ( 1 2 3 4 5... Last Page)

18 Hours Ago

03:51 PM

by

Zaharoff

126

43,640

General Discussion
Looking for some dreamlike stories. ( 1 2 3 4)

18 Hours Ago

03:46 PM

by

In A Dark Light

34

2,344

General Discussion
What other central european authors do you read? ( 1 2 3 4 5... Last Page)

23 Hours Ago

11:00 AM

by

Vice

52

16,349

General Discussion
Your favourite song at the moment.. ( 1 2 3 4 5... Last Page)

1 Day Ago

12:18 AM

by

ChildofOldLeech

3,116

401,299

Musicians
Your Favourite Lovecraft. ( 1 2 3 4 5... Last Page)

1 Day Ago

09:48 PM

by

crow

123

19,315

H. P. Lovecraft
Christopher Slatsky ( 1 2)

1 Day Ago

06:56 PM

by

Kevin

13

1,478

Christopher Slatsky
What Good is Your Head

1 Day Ago

12:28 PM

by

BeelzeBob

0

88

Items Wanted
What Makes You Laugh? ( 1 2 3 4 5... Last Page)

2 Days Ago

04:17 AM

by

ToALonelyPeace

753

127,902

Personal