» Online Users: 62
11 members and 51 guests
cannibal cop, Insentient Traveler, Mad Madison, Robert Adam Gilmour, Speaking Mute, Thossyphus, Trau, ukiyo-e cat, Zaharoff
Most users ever online was 3,530, 01-11-2015 at 01:59 PM.
"But somehow he himself did not seem at home there, even then. And nothing seemed to belong to him, though there was little enough in that house to be possessed by anyone. Apart from the two old chairs in which we sat down and the tiny misshapen table between them, the few other objects I could see appeared to have been brought together only by accident or default, as if a child had put all the odd, leftover furnishings of her dollhouse into an odd, leftover room. A huge trunk lying in the corner, its great tarnished lock sprung open and its heavy straps falling loosely to the floor, would have looked much less sullen buried away in an attic or a cellar. And that miniature chair by the door, with an identical twin fallen on its back near the opposite wall, belonged in a child's room, but a child whom one could not imagine as still living, even as a dim memory in the most ancient mind. The tall bookcase by the shuttered window would have seemed in keeping, if only those cracked pots, bent boots, and other paraphernalia foreign to bookcases had not been stuffed among its battered volumes. A large bedroom bureau stood against one wall, but that would have seemed misplaced in any room: the hollows of its absent drawers were deeply webbed with disuse. All of these things seemed to me wracked by their own history of transformation, culminating in the metamorphoses of decay. And there was a thick dreamy smell that permeated the room, inspiring the sense that invisible gardens of pale growths were even then budding in the dust and dirty corners everywhere around me."
Thomas Ligotti - "Flowers of the Abyss"
Ligotti Panel at StokerCon
Apr 22, 2017 - 2:30 PM - by Nicole Cushing
A week from today (Saturday, April 29) at 2:00 p.m., there will be a panel at StokerCon titled "Thomas Ligotti and the Nightmare of Living".

S.T. Joshi, Ted Grau, and I will be discussing Tom's work aboard the Queen Mary. (A former luxury liner permanently docked in Long Beach, CA.) The panel will be in the Regent Room. Would love to see some TLO folks there.
11 Replies | 1,331 Views
Cadabra Records Announcement
Apr 13, 2017 - 1:17 PM - by Dr. Locrian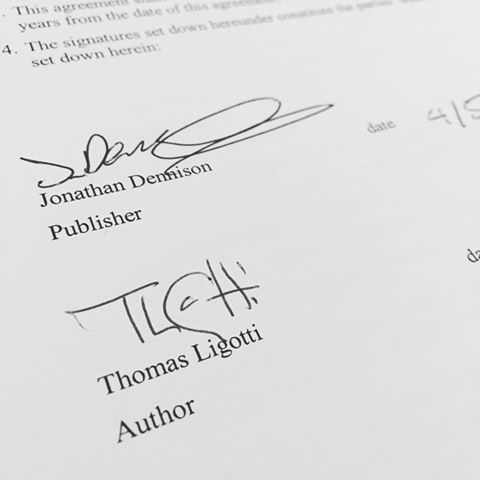 Get ready.

#ThomasLigotti #nowspinning #vinyl #vinylcollector #coloredvinyl #horror #horrorfiction #vinyljunky #spokenarts #spokenword #CadabraRecords #NightmaresOnVinyl

I'll be narrating.

More details forthcoming.
4 Replies | 1,012 Views
Thomas Ligotti Online - Nineteenth Anniversary
Feb 08, 2017 - 11:35 AM - by Dr. Locrian
On February 4th, 1998, TLO was born.

Happy Belated Birthday (I forgot AGAIN), Thomas Ligotti Online!

A heartfelt thank you to Brian Poe (aka Dr. Bantham) for his wonderful design, hosting and administrative prowess and to all the members of TLO past and present for making this an online community that continues to stand the test of time.

Finally, thanks to Thomas Ligotti himself, as always.

Here's to nineteen more years of TLO!
4 Replies | 1,948 Views
» Recent Threads

Rating

Title, Username, & Date
Last Post
Replies
Views
Forum
Ligotti Entering the Mainstream ( 1 2 3 4)

1 Minute Ago

06:02 PM

by

Zaharoff

39

3,885

General Discussion
Trump ( 1 2 3 4 5... Last Page)

5 Minutes Ago

05:57 PM

by

ukiyo-e cat

1,064

60,838

Rants & Ravings
Reggie Oliver ( 1 2 3 4 5... Last Page)

18 Minutes Ago

05:45 PM

by

Lucian Taylor

276

67,003

Reggie Oliver
Idpol ( 1 2 3 4)

2 Hours Ago

03:33 PM

by

James

32

1,419

Rants & Ravings
Snuggly Books ( 1 2 3 4 5... Last Page)

2 Hours Ago

03:04 PM

by

Anna

103

29,297

Other News
Marcel Schwob - A King in Gold if not Yellow

4 Hours Ago

01:30 PM

by

Nemonymous

2

1,001

Other Authors
An Unusual Guitar ( 1 2 3)

5 Hours Ago

12:46 PM

by

Druidic

28

896

Musicians
The William Hope Hodgson thread ( 1 2 3 4 5... Last Page)

5 Hours Ago

12:10 PM

by

Gnosticangel

60

4,850

Other Authors
RIP-Avalon Brantley/New Zagava book from Avalon Brantley ( 1 2 3)

8 Hours Ago

09:17 AM

by

Nemonymous

21

3,091

Other News
Authors, Their Own Worst Enemy ( 1 2 3 4 5... Last Page)

9 Hours Ago

08:04 AM

by

qcrisp

68

12,003

Off Topic
Mark Samuels x 2

21 Hours Ago

08:15 PM

by

LincolnB

1

323

Items Available
Last TV show you watched ( 1 2 3 4 5... Last Page)

23 Hours Ago

06:41 PM

by

James

182

23,475

Television
Movie Recommendations ( 1 2 3 4 5... Last Page)

1 Day Ago

04:29 PM

by

cannibal cop

408

81,023

Film
Original Quotes ( 1 2 3 4 5... Last Page)

1 Day Ago

02:12 PM

by

DarkView

77

12,742

Themed Quotations
THE SECRET OF VENTRILOQUISM by Jon Padgett. ( 1 2 3 4 5... Last Page)

1 Day Ago

10:00 AM

by

Dr. Locrian

159

28,784

Jon Padgett