I am going to pilfer this topic from another board, OffsetGuitars.com , as it fell into reverie why replying myself and it seems like fertile ground for discussion. How did you hear about your favorite band(s)? I'll start it off with a double post of my original reply, which seems to be a great site/resource for interested parties. I found it while doing research for my Fender Jaguar. Fee free to post your reply here/there. Curiously, I seemed to be more candid within their forums than I find myself being here, which I presume to be an effect of perceived anonymity.
Wow, this brings back a flood of memories! I have quite a few favorite bands, depending on my mood and such, but a few special moments would include:
CHAMELEONS UK & THE CURE
When I was a junior in high school (circa 83/84), a friend of mine named Jeff Austin sold me a couple of cassette tapes so that he could buy guitar strings. We lived in a small town in southwest Virginia and Jeff was a 6'-4" black guy with a mohawk playing in a hardcore punk band. I can only imagine what it must have been like for him growing up in the redneck cauldron that Marion was then, but at least he wasn't my size (I was 5'-9" and weighed 109 when I graduated). Anyway, Jeff brought a handful of cassettes into the lunchroom one day and convinced me to buy four of them on his recommendation. I think one was Naked Eyes and the other Heaven 17. I had always been a big Devo fan to that point and he suggested these as new wave keyboard bands. Catchy pop for the former, but I was not taken with either otherwise. The big catch was the other two. One was "Script of the Bridge" by Chameleons UK and the other was "Pornography" by The Cure. I was blown away by these and the exchange was life changing. These two albums remain among my favorites by any band. Jeff had great taste and he later convinced me to pick up an instrument after he returned from a stint with the armed forces (go figure). We attempted to form a gothic band (old breed) with him on guitar and me on keyboards and bass, but we never did manage to find other members (imagine that). Jeff played with Empire Hideous (NYC) for a bit, which was a bit too gothic for my blood, but I would love to hear from him again. I fear the worst, as I cannot find him on the internet, which these days it can be hard to hide from.
THE SMITHS
A girl that I was quite smitten with from my senior year in high school gave me a tape to copy for her. She had borrowed it and wanted to keep it for herself, so I helped out since I had access to a stereo with dual decks (technological marvel that it was). It was the self-titled album from The Smiths. I listened to a snippet while it was dubbing, and decided to give it a proper go later than night on my Sony Walkman. It snowed over a foot that night and I have a clear recollection of staring out into the night, watching the snow in the glow of lamp posts while I cried and listened to Morrissey recount my feelings for me. Sorry! Sappy but true!
JOY DIVISION
I read quite a bit about Joy Division before I had ever heard them. One had to travel 50 miles to get to a record store back then, and since I did not get my drivers license until I was 19, I was at the whim of others when it came to getting my hands on new music. As I recall, I had to order Closer from the store and wait several weeks for it to arrive, since was a Factory UK pressing. I think this was the summer of 1985, after I graduated. I was lost to the world and spent the next year locked in my room, listening to music, taking various drugs, writing poetry and such. I barely made it out alive (literally). As opposed to pushing me over the edge, Joy Division gave me clarity for my feelings and inspired me artistically. If I had to pick a favorite band, it would be JD. Ian Curtis is an enigmatic icon for me personally, not only for the means meeting the end, but for following my inner voice by proxy. I fully realize that the mystique of his demise is reinforcing the impact of the music, but one must understand that bands can be collective artistic expressions beyond music alone and ultimately our perceptive experience is a collaborative effort unto itself. Sorry to diverge, but I do not care to get into a sideboard about suicide!
THE BIRTHDAY PARTY
I recall buying "The Collection" by The Birthday Party in the fall of '86, when I forced myself to go back out into the world and attend college at VCU in Richmond, VA. I had sold my entire coin collection on that day and walked from the center of campus to Plan 9 Records (and back). Aside from a black overcoat and a used pair of combat boots, I bought a hefty stack of records (nearly all UK pressings) and trudged back all weighted down with goodness. I remember hearing of TBP in music journals prior to this and ultimately bought the record based on the striking band photos on the cover. Nick and Rowland's pics seemed like they were from a high school yearbook from hell, and I could not resist (aside - my yearbooks always featured a gray box in lieu of my visage as I hated photographs of myself). I was blown away by Rowland's chaotic onslaught with his Jag and he remains one of my favorite guitarists. On the way back, I had a male ask me out on a date. I nearly dropped the records in mid-stride. I politely declined, but this episode shook me up as I had never had anyone show interest in me before and the irony of getting it from the same sex was nothing less than tragic (not to offend the preference of others). I later moved on to become an awkward heterosexual, which I refined to the point were I have married and such.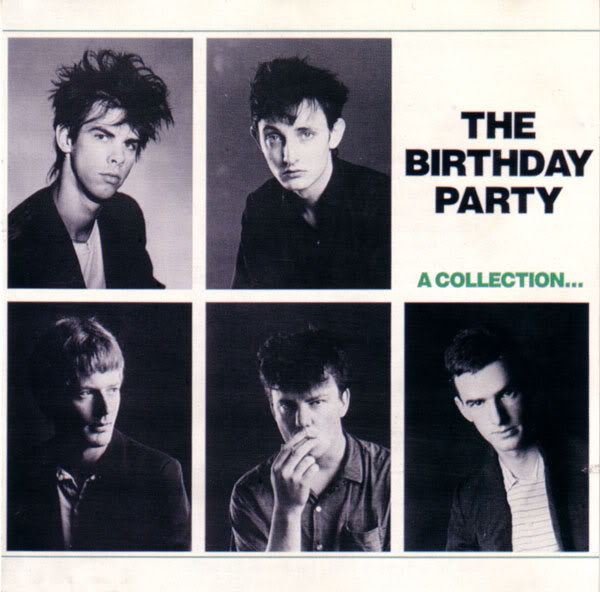 THE PIXIES
Some time in '88 I was coaxed into visiting a friend in the Newport News. I couldn't stand the social demand of college and had dropped out after two semesters. Jeff Austin was with me and one night we decided to drive over to Richmond and try our blind luck at a random show. We found flyers for The Pixies playing at Rockitz that night. They were on 4AD, who were best know for goth bands such as Bauhaus, so while having drinks at our table we joked that they would be diminutive druids (pixies) garbed in black robes while playing medieval lyres and emitting Gregorian chants. The opening band was Scrambled Legs, and we nearly walked out due to my other friend not liking the ratio of guys to gals and the general geek factor evident with the the quirky opening act. We stuck it out and the people at the table beside us got up and walked to the stage. We were embarrassed when we realized that they were in fact The Pixies. In front of a crowd of about thirty people I witnessed the best performance I have ever experienced (though I must admit that I hate crowds and avoid shows for the most part). I had no cash the next day, but we went to Plan 9 and Jeff bought "Come on Pilgrim" and "Surfer Rosa", the latter which had been released only days before (they had just started their tour to promote it).
Whoa, I am getting carried away with nostalgia! Perhaps more stories later. The common theme here (beyond the fact that I am a misplaced artifact) is that discovering music was more of a spiritual experience back in the day. Now you can hear of a band on a forum/blog or random jukebox stream and download their entire discography within a few minutes (shame on you). Are we consuming or being consumed by hunger itself?